The Biggest Upset In Day Creek Intermediate School History
December 24, 2018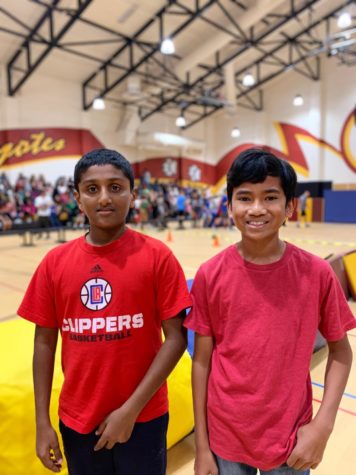 Ten players on one side, two on the other. Three minutes later… all ten players are sitting on the bench.
In probably the biggest upset in DCIS history, Madhav P. and Isaiah D. (the only members of the Mean Dream Team) survived the first round of the annual Survivor Ball Tournament against the Sprite Cranberries.
Right when the Mean Dream Team walked onto the court, they were thinking 'We're gonna lose. We're gonna lose. We're gonna lose.' But they won.
With 8 Sprite Cranberries left, Madhav was eliminated and it seemed that all hope was lost. The crowd quickly hushed. However, Isaiah kept throwing at the cranberries, he managed to stay alive while getting them out. And then, he rescued his teammate by catching a dodgeball with only 5 more to eliminate. That was when Isaiah realized 'We might win.' With the crowd on their feet, Isaiah and Madhav managed to scrape out the win. The bleachers emptied as everyone crowded the legends who etched their name into the school's history books.
That first kill was what got "their momentum going" and they wanted to get revenge on their previous teammates, who "were traitors" and were on the other team. During lunch, Madhav was given another standing ovation and the 7th graders chanted MVP for Isaiah. They said that it "felt good [but] embarrassing" to have a standing ovation.
On the second day, the Flaming Hot Chili Peppers and the Familia won the tournament. Blah blah blah. Who cares, the Mean Dream Team was the real winners.