Day of Awesomeness
Hang on for a minute...we're trying to find some more stories you might like.
You walk up to the Wheel of Fortune, spin the wheel, and pray that it lands on the American Flag (which doubles your money) or a fat bill which symbolizes a huge stack of cash. The suspense is intense. Right before your eyes nearly pop out, the spinner lands on the $50 prize! You're so ecstatic that you start bouncing. A worker hands you the cash, and you sprint to your friends to share the good news.
In case you're wondering, this was Step It Up's Day of Awesomeness. Step it Up is a fundraising company that encourages friends and family of students to donate money. With a donation of $60, you get to go to the Day of Awesomeness!
"We started Step it Up 5 years ago, and we copied the Jog-A-Thon that people were doing at school. And we just figured kids didn't like to come back and jog around a track. So we thought we'd put on a party for our schools instead of having them come back and jog," said Bruce Resnik, one of the founders of Step It Up.
The performers were also eager to help Step It Up.
"I'm excited about this event because this is a great opportunity for us to give back to the community and to inspire kids all over the IE," said Guy Jackson, part of the Acrobatic Slam Dunk Team.
Now for the fun part!
On Monday, from 12:30 to 2:30, students were excused from class to savor Kona Ice, dance with their friends, stare open-mouthed at a magician, watch a stunt team, play in the Game Truck, and earn plenty of money and rewards. If that didn't sound like fun, they could just hang out with their friends.
"I find the (Day of Awesomeness) entertaining (because) they have a lot of variety: They have video games inside and they have games outside. They have Kona Ice…and they have shows throughout the area. I find it great," said 7th grader Michael Gibson.
During the magic show, a magician performed many spectacular tricks, the teleporting sand trick one of the favorites. The magician poured sand into his right palm, closed it, and the sand somehow disappeared. Then he reached into the air with his left hand, caught something invisible, and showed us the sand. What? Wow!
"It was really cool because he performed a lot of illusions that seemed real," said 6th grader Jerry Guo.
Next came something many of the students enjoyed: The Game Truck. The screens were large, and there were numerous games to choose from.
"The Game Truck is really fun…when you go inside, there're different choices like Minecraft, Smash…and basketball," said 7th grader Sean Cheesman.
Finally, the rewards were an exciting part of the Day of Awesomeness too. Students were rewarded with many enjoyable prizes such as the Spin Popper and the Magic Thumbs. Plus, they could win lots of money, including rare $2 bills.
"It was exciting, I wanted the $20 bill, but I got $2. I wished for $2!" said 6th grader Kait Garcia.
If a student was tired or didn't feel like playing anything, they could always just hang out with their friends and socialize. It is hard to do that when students are in separate classes, and The Day of Awesomeness provided a chance for students to get together.
"I think having friends around is better because you have someone to interact with…I find it entertaining to have someone to talk to," said Michael Gibson.
With all the prizes, shows, DJ, video games, and Kona Ice, the Day Of Awesomeness was truly a memorable event. It definitely seemed worth the $60 donation for all who participated.
About the Contributors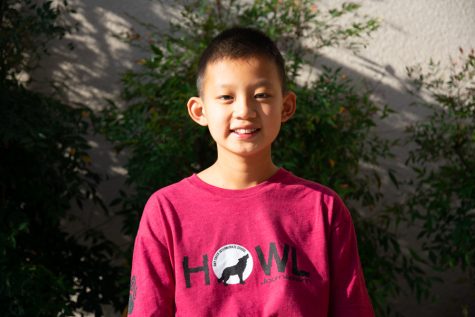 Tommy T., Writer
Tommy Tang is a Day Creek Howl writer. He's a curious and outgoing person that is a big soccer fan. He enjoys playing the piano, soccer, and video games....