Tagovailoa Named Starter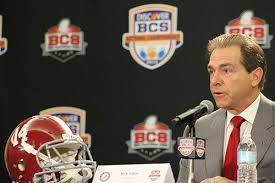 Hang on for a minute...we're trying to find some more stories you might like.
On September 3, Alabama coach, Nick Saban, announced that sophomore quarterback Tua Tagovailoa will be the starter for the Crimson Tide in week two against Arkansas State. The two Alabama quarterbacks, Jalen Hurts and Tua Tagovailoa, have been fighting for a starting job since the 2018 BCS (Bowl Championship Series) National Championship.
It all began when Nick Saban made one of the gutsiest calls of his career in the 2018 National Championship. He pulled out starting quarterback Jalen Hurts and put in true freshman backup Tua Tagovailoa. This decision changed the course of the game. Tagovailoa led Bama back from a 13-0 deficit at halftime and tied the game at 20-20. As time drained out, Alabama attempted a last second, game-winning field goal, but their kicker missed. This sent the game into overtime. After the coin toss, Georgia got the ball first and kicker Rodrigo Blankenship launched a 51-yard field goal. After the field goal, Alabama got the ball. On first down, Tagovailoa took a huge sack which resulted in a 16 yard loss. Tagovailoa make up for the loss on first down. He threw a 41-yard touchdown, sealing the win for the Crimson Tide.
After the Alabama win, a discussion began about the upcoming season. Should Jalen Hurts, the 26-2 starter, or the backup, Tagovailoa, be the starter for the following season. After Tagovailoa's amazing performance in the National Championship, people wondered if he was better than Hurts. As a result of this, Nick Saban started both quarterbacks at the start of the 2018-19 season.
In week one against the Louisville Cardinals, Alabama brought the hammer down, beating Louisville 51-14. Tua Tagovailoa had a stellar performance and outplayed Hurts on the field, throwing for 227 yards and two touchdowns, while rushing for 26 yards and a touchdown. Hurts only threw for 70 yards and rushed for nine yards.
Based off these performances, Tua Tagovailoa looked a lot better than Hurts, yet Hurts had gone 26-2 as a starter. According to the Orlando Sentinel, both of these quarterbacks are good, but as for now coach Saban has made his decision: "Tua's going to start this game and we're going to use Jalen's skill-set in the future to help however we feel that he can benefit the team."

About the Writer
Dylan R., Writer
Dylan is very serious about his education. One of his hobbies is football.  His favorite team is the Patriots and he hopes to become the best tight end...