Mama Por Dios Review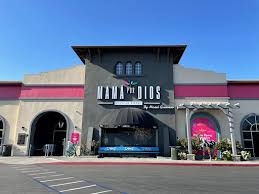 Who doesn't love authentic Mexican food with a live DJ and a mariachi band? I know I do. A lot of people might opt for Taco Bell or Del Taco, but most just want food that tastes like home. Mamá Por Dios is open from 11am-2am, and has all of the traits listed above (apart from the Crunch Wraps of a place like Taco Bell). I heard a lot about this place around campus and in my own house, so I took the opportunity to go down to Mamá Por Dios in Rancho Cucamonga.
While most "authentic" Mexican restaurants might have hard-shell tacos, or processed meat, Mamá Por Dios has real food that tastes fresh from the kitchen. But if you just want some plain ol' chicken nuggets or some nice breakfast cereal, then you're in luck. Mamá Por Dios has a kids menu too. Mexican restaurants should have as much culture as they can fit into a building. They should also have good traditional food. When you first walk into Mamá Por Dios, you're met with a short wall full of alcoholic drinks. Since we got there at an early time, there weren't many people, so we got to be seated quickly. As soon as we got to our table, we saw beautiful paintings of people like Frida Khalo and Pedro Infante on the wall. There are few places to compare this restaurant to, but it is definitely a different place compared to Del Taco or Taco Bell.
Starting in his parent's restaurants in Sinaloa, Mexico, Misael Guerrero turned everything he knew into a successful Mexican-food franchise. His first restaurant, CulichiTown, has over 15 locations across the US. With Mama Por Dios, Guerrero wanted to highlight the best of Mexico. So many flavors, smells, traditions, and artistic traits bring out the best in this gourmet restaurant.
The pandemic affected everybody, and it was hard to find a restaurant that stayed open.
"During the pandemic, we had the outside open, so we were busier than we are now because we were one of the few restaurants still open," said Jasmine, the manager.
I got some recommendations, but I didn't want to order from the kids' menu this time. I decided to go for a more home-like "grownup" meal. So I got one of the most recommended– Enchiladas Verdes Frida. We also got the Enchiladas India Maria, Tacos de Birria, and Tacos Dorados. Yelp also suggests the Camarones Por Dios, Queso Fundido, and Lobster Mac. There were a lot of kind about Mamà por Dios like "who needs to go to Vegas to have fun?"
Every dish had a beautiful scent, and an even more wonderful taste. We started off with an appetizer, sliced apple with chamoy and sprinkled with Tajin. We then ordered, and the waitress was very kind.
The Enchiladas Verdes Frida was heaven. It was covered with a tangy salsa verde, drizzled with a little bit of sour cream, and topped with sliced onions and jalapeño. I dove head-first into the dish. As soon as I had a bite, the flavors of the pollo, soggy tortilla, and a bit of sour cream blasted me all at once, reminding me of the taste of home. For the Tacos de Birria, I could taste the carne with a lot of juice in it. On the side, there was a cup of salsa, and a second cup of stew. If you've ever had a taco de birria from an LA taco truck, you'd recognize this flavor. Once I tried the Tacos Dorados, my mouth melted in flavors. It wasn't dry and the cabbage really topped it well.
After dinner, we splurged for the Ice Cream Cart. The cart had three flavors (vanilla, chocolate, and strawberry), and came with toppings like crushed Oreos, M&Ms, and sprinkles. I loved it!
The check for four came out to about $110.00. The Enchiladas Verdes Frida was $26, the Enchiladas India Maria was $23. The Tacos de Birria came to about $16, and the Tacos Dorados was $21. The ice cream cart added a final $25 to the tab. All of these dishes individually were a good price. But for 4 people, it was more expensive than other sit down restaurants. Yet with the whole experience of a DJ on Thursday-Saturday, and mariachi on Friday-Sunday, it was worth it.
The music was loud, but not too loud, and the paintings on the walls, the sculptures, and the decorations showed beloved icons from Mexico and other countries. Icons included Frida Khalo, Pedro Infante (a singer), El Chavo, El Chapulín Colorado, and Cantinflas.
WIll I go back? Yes. This place is a great restaurant for birthday parties, graduations, farewell parties, and much more. It also has great service. And even if you just want to eat something with some entertainment, this is the place to go.