Duck Donuts Are Delicious!
It's an early Saturday morning, and what do we have time for? Donuts! What student doesn't love a  donut (and maybe a coffee, pending parent approval) after rolling out of bed? It's practically a Southern California tradition! While most teens consider Dunkin' or Krispy Kreme, the Howl decided to visit a new store called Duck Donuts based on conversations around campus.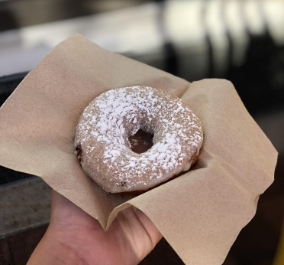 Donut shops are renowned for their sweet, glazed donut behind the glass case that accompanies that quick cup of java. Coming from someone who isn't old enough for coffee just yet, Duck Donuts has more to offer than what the typical 12-year-old might buy. But for those who are allowed to have coffee at a young age, there are plenty of options. And Duck Donuts doesn't stop with donuts, as they also offer ice cream and shakes. In comparison to the typical donut shop, Duck Donuts is small. They have a little floor plan separated by a sheet of glass that allows the customer to see how the donuts and other food are prepared. Seating is sparse, with additional space outside. The store is generally tidy, though some areas could use a little more attention. For example, the utensils container had a bit of ice cream left over from a prior guest. Customer service was patient and kind, as they walked me through the endless choices. This is necessary because Duck Donuts isn't the typical donut shop. If If you're looking for made-to-order donuts and hot coffee in the morning, or ice cream cones and shakes in the afternoon, Duck Donuts is the place to go.
In Duck, North Carolina, Russ Digilio had a unique idea for a truly fresh donut shop. While other shops make fresh donuts in the morning, Digilio wanted customers to experience a donut made at the moment. So he founded Duck Donuts which quickly became available to franchisees. Their first store opened in Williamsburg, VA in 2013, though they've grown to over 100 locations, including shops in Canada, Puerto Rico, and Saudi Arabia.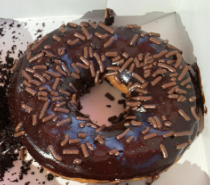 "We opened up last year, so we kind of missed the majority of the shut-downs and everything with the pandemic. When we first started, we were super, super busy, consistently busy, but now it's kind of slowed down," said Rosa, a manager at the store. 
"There are seven [popular flavors]," said Rosa. Yelp confirms her recommendations, listing French Toast, S'mores, and the Blueberry Pancake donut as those that customers often enjoy. The only negative comments concerned sticky donuts and higher pricing.
I sampled the Cookies and Cream milkshake, French Toast and Midnight Madness donuts, and a Bacon, Egg, and Cheese Sandwich. 
Each item was flavorful and tasty. Nothing was overly sweet, and everything was warm and fresh. The Midnight Madness was a bit too chocolatey, but the crunch of the chocolate sprinkles was perfect. The French Toast hit the spot, as it reminded me of authentic French Toast. It was warm, a little sticky, and coated in a nice layer of powdered sugar. The Cookies and Cream milkshake was a bit sweet, but also very refreshing. As it melted, it was nice and creamy, tasting just like Oreos should. The Bacon, Egg, and Cheese Sandwich was a tad greasy, but it was very fresh and of course, warm.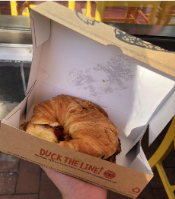 Guests can purchase each of the four items that we enjoyed for around $20, not bad for two people. Each donut costs about $3.00. A milkshake sells for about $8.00 for a size between a Starbucks' Tall and Venti. The Breakfast Sandwich costs about $6.00 and satisfies as a filling morning meal if you're on the go. As guests first walk in, there is also a refrigerator well stocked with various drinks.
Will we go back? Yes! The food was enjoyable, and the service was highly personable.  
"It's really cool because you get to make everything. It's nice to know that when you want to make your own donut, you can get creative with it," Rosa said. 
One of the best parts about the Rancho location is the sign on the window: 7:00 am – 10:00 pm. So if you're feeling like some made-from-scratch donuts and a hot cup of morning coffee, or ice cream cones and shakes late in the afternoon or evening, Duck Donuts is a great option for our fellow Coyotes.